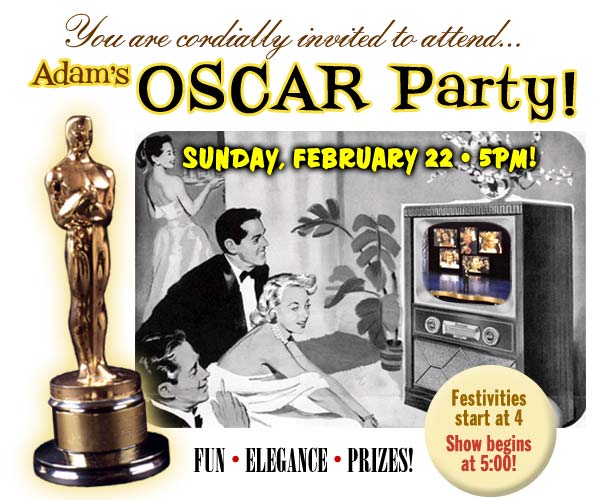 OOPS! Apologies for the technical glitch in my previous attempt at sending this.
This is just a followup/reminder about my Oscar Night party – please let me know if you can make it. Come early or come late! Here's the details…
This year I'm attempting an elegant Oscar soirée… and you're invited! For one evening we'll revive the glamorous and elegant atmosphere of Hollywood's Golden Age. There will even be a red carpet! Be a star – or at least dress the part. You can't be overdressed for this one – so have fun and glam it up. But don't worry – whatever you're wearing, you'll be sure to get past the velvet rope.
The evening will feature authentic red-carpet Hollywood atmosphere, a big screen, big sound viewing experience, tasty snacks, and fun movie trivia – complete with valuable prizes!
But the one thing that guarantees a successful evening is something only you can bring: yourself! More than anything, I'm looking forward to having a fun evening with good friends. I hope you can make it. Please let me know!
Adam