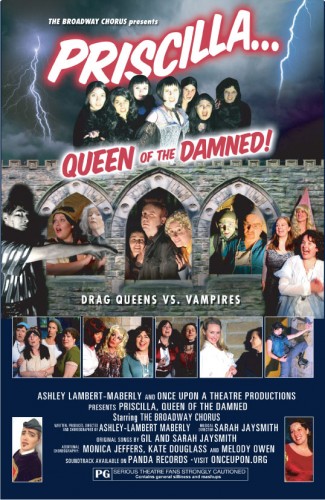 If you attended and enjoyed the Broadway Chorus musical, "Priscilla, Queen of the Damned" last month, here's your chance to have a truly unique keepsake. I took my custom promo art for the show and expanded it into a full-on, glossy poster!
It's jam-packed with pictures of the colourful citizens of Zarnesti. Besides Dr. Frankenstein and his monster, resident diva Carlotta Castafiore, and Edwards, Bella and Stela, it also includes the three "Drague" queens, manly Prince Marku, the three princesses, the Housekeeper, "Crazy Fiona", and more! You'll relive the hilarity of "Priscilla" every time you look at it.
The posters are printed on heavyweight, glossy paper and are very suitable for framing.
And you can have one of these delightful posters for only $10!
If you'd like one, just email me and we'll work out the details of payment and delivery.
A final word from Yuri: "I hope you enjoy poster! Is good poster!"