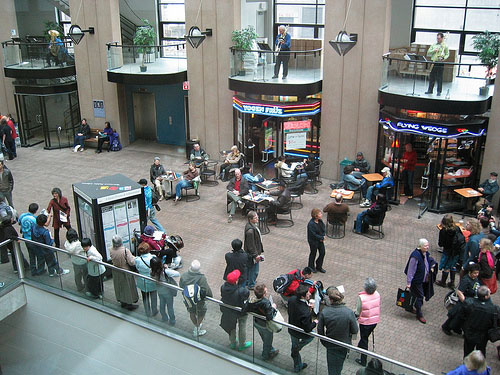 I love creative, whimsical, public art and performance… so I simply had to check this one out. A Touch of Brass Ensemble, the founding members of which studied with The Canadian Brass, performed as
"The Vertical Orchestra"
this afternoon at the Vancouver Public Library's Colosseum-like main branch. They took up spots around the outer side of the massive atrium, on two different levels, and at 1pm they began a concert. Beautiful tones both bright and muted reverberated around the space. It was a delight to behold. Besides the collected crowd, passersby who stumbled across this unexpected musical experience stopped in their tracks and took in the spectacle.
At the concert I met up with Jordan Nobles, Artistic Director of
Redshift Music
, the group that makes this whole thing happen (with the help of generous sponsorship, of course). This is him, stopwatch at the ready, kicking off the concert, drag-race style. "Gentlemen, start your instruments!" Events like this get people together, and talking, and that's another thing I love about them. Thus it was that I bumped into, then chatted with, photographer and filmmaker
Elaine Brière
, whose compelling documentary work has graced national and international media outlets for many years. We had a great and wide-ranging discussion about art and politics! Check out her website at
www.elainebriere.ca
.
I also saw Jim Green and had a nice chat with him as well. Plus, we seemed to have been working from the same dress code!
Click here to view a slideshow of the entire event.
On the way out of the library, what should I see but another amazing aerial spectacle – the
Aeriosa Dance Society
fearlessly practicing for an upcoming performance. It sure made for some incredible images.
See the entire photoset.